High-mileage Subarus from around the world...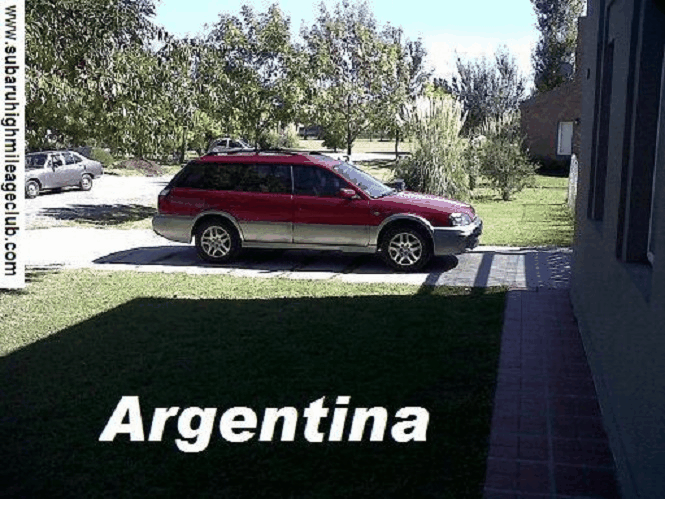 If you do not see your country represented, send us pictures, including an odometer picture.
Si usted no ve su país representado, enviarnos fotos, incluyendo una foto del cuentakilómetros.
Si vous ne voyez pas votre pays représenté, nous envoyer des photos, y compris une image de l'odomètre.
אם אתה לא רואה את המדינה שלך מיוצגת, לשלוח לנו תמונות, כולל זריקת מד מרחק.
إذا كنت لا ترى مثلت بلدك، ترسل لنا الصور، بما في ذلك اطلاق النار عداد المسافات.
Eğer ülke temsil görmüyorsanız, bize bir kilometre sayacı atış dahil fotoğraflarını gönderin.
あなたの国が表されていない場合は、私たちにオドメーターショットを含む画像を、送信してください。
Если вы не видите в вашей стране представлены, присылайте нам фото, в том числе одометра выстрела.
Jei nematote savo šalies atstovus, atsiųskite mums nuotraukas, įskaitant odometro smūgį.
Ако не видите своју земљу представља, пошаљите нам слике, укључујући и мерач пређеног пута пуцао.
Kama huna kuona nchi yako kuwakilishwa, tutumie picha, ikiwa ni pamoja na odometer risasi.

We have a new addition to the Moon-and-back Club (over 500,000 miles) - check it out in the gallery

Please us on Facebook,
And of course we are on
.

UPDATE (5/15/10)! UPDATE (11/5/10)! UPDATE (10/31/11)! UPDATE (6/14/14)! Sorry, folks, with the 2013 issue of the Lifebook we are no longer in SoA's good graces, and as of today the Lifebooks do not appear to be available on the SoA website anywhere I can find. If you know otherwise, please let me know via private email. We will, of course, continue to make our t-shirts and bumper stickers available, and anyone ordering a t-shirt will get a free bumper sticker and a copy of the 2010 Lifebook, hard copy, which was the first official SoA publication to recognize us. UPDATE (8/22/15)! Apparently the Lifebooks *are* still available, but SoA does not make it easy to find.

You may click here. If that does not work, one needs to go to the "Shopping Tools" dropdown menu, select "View a brochure" on the right-hand side of the menu, select "Full Line of Vehicles" and then one is presented with other dropdown menus where one may select model year and type of brochure. Keep in mind the Club is only mentioned in the 2010, 2011, and 2012 Lifebooks. Download them while you can. If SoA takes down all references to the SHMC then these links will go away.
Welcome to the


(please read disclaimer below)
You can buy this cool logo as a bumper sticker for your high-mileage Subaru. Click on SHMC Stuff for details.

Help beat cancer in children.
Please click below to find out what you can do.



Please also vote for this site if you like it, by clicking on this image



Tired of high gas prices? There are two things you can do. 1) Get a Subaru, and 2) Check out this site:

NOTE: Gasbuddy reccently decided to not allow frames to protect the security of information you provide. (Where have you heard that before?) You may have to "right-click" and open in a new tab or window.