These vehicles have achieved the second milestone of having passed the 200,000 mile mark.
Looking gooood.

send me back home...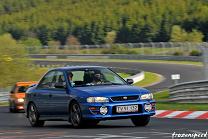 Hello Richard!

Finally, a couple of weeks ago I crossed the magic 320,000km barrier. I have already done another 2,000km since then...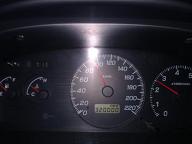 I have done some things to my car since the last rapport. The clutch had to be replaced, around 130K miles, and I have replaced all the struts, well dampers only. I fit adjustable KYB AGX dampers, and upgraded the strut mounts to STi Group N. I have also made some other, detail changes to the suspension, since the car is seeing quite alot of track action these days. My original exhaust system also bit the dust, after 10 years and close to 180K miles....so I replaced/upgraded to a Borla system, with a RandomTech catalyst. All strictly legal. Borla isn't cheap, but the quality is excellent, and the fit is perfect.

Take care of yourselves,

Emil Heise
System Consultant • Service & Support • Océ Danmark a/s
Vallensbækvej 45 • 2605 Brøndby • Danmark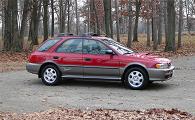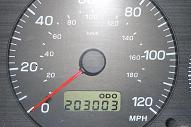 Hi Richard- I would like to add my Subaru to your club. This is my 5th Subaru- each one I've had at least 100,000 miles on, but this is the 1st one to reach 200,000!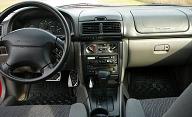 I have only owned my 1999 Subaru Impreza Outback Sport AWD for only a year and a half, and I love it. When I bought it, it had 171,294 miles on it. No worries, it's a Subaru! It just turned over to 203,000 miles yesterday. I am only the 2nd owner of this car. I have put new tires on it, replaced the fuel tank filler neck (rusted),timing belt/water pump, and new belts all around. Other than that, I use Mobil 1EP 5W30, and change every 10,000 miles. Other than that, no problems-it's the most reliable Subaru I've ever owned! That 2.2 liter engine is indestructible! I average 25-28 mpg, and have even got 30 mpg before. Not bad for a 11 year old AWD car.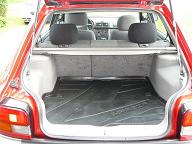 I plan on doing a tune up this summer before I take it from Wisconsin to Colorado- road trip to the mountains! Time to do some off-roading, too! I love rally racing as well, following Subaru's that compete in it, so I took it to the Lake Superior Pro Rally in Houghton, MI last year and was able to get in some good off-roading getting to and from the stages. Overall, my favorite car! Enjoy the enclosed pictures. See you at 300,000!

Thanks,
Troy Schade
Hi Rich ,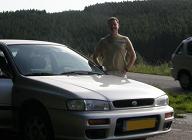 I also own a Subaru Impreza 1.6GL AWD from 2000 with 361,771 km on it, as you can see on the attached picture. It is not so sharp , because i took it when driving 130km an hour. 120 is allowed here in the Netherlands. In Germany i pushed this car to 210km/hr. At some highways there, there is no speed limit. I bought the car new and when new a LPG installation was build in. So all the time i have been driven on LPG, which seem te heat up the engine more than the regular 95. But LPG is much cheaper than regular 95. (0.45 versus 1.40 euro a liter)

The car only gets the necessary maintenance as descibed by subaru , every 12500 km.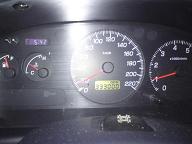 The problems i had where a bad contact in the 12V of the LPG computer that made the engine stop unexpectedly, the shock absorbers at 300k, the waterpump lasted until 339k and the battery went recently after a vacation, when i didn't drive for two weeks. The car does not like standing still. The only thing that was difficult to replace was the illumination of the dasboard , because the 14V 2 watt lamps are impossible to obtain. I can do 100,000km with a set of tyres, and two years ago i also bought a set of wintertyres, because these are necessary when i drive trough Germany in the winter and here i have also better grip when there is snow or ice on the road.

I am looking for another car , but the problem is this car is not old but has too many km on it, so it is difficult to trade it in. Besides most other cars don't run on LPG so are more expensive to drive, and i guess they are less reliable. And i am used to the AWD now and don't want to give this up. So i guess i will be looking for anoher car for some time untill this impreza gives up. And that can be a long time.

Besides i'm also a ham and put a 2and70 in the car.
73's Henk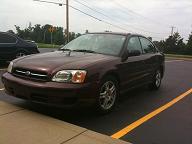 Hello, I just wanted to get in on the high mileage Subie Club! What I have is a 2000 Subaru Legacy 2.5 with 206k miles. I bought it in March '06 with 120k on it. I drive a lot for work, and have put over 80k already, mostly highway.

This car is great! The only major thing I did to it was it had a leaking seal in the tranny and had to fix it, which set me back about 2k, which I knew when I bought it, and the guy was real honest to tell me. Thus he sold it to me really cheap. I think it looks really good for the mileage. Nobody beleives me when I tell them how many miles it has! The only mod I have done is put some rims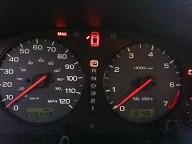 from a '04 WRX on it, which I think looks real nice. Regular maintenance is the key.

Well, there it is! I hope to get to 300k on it, which right now, its running probably better than ever. The engine in these cars are quite genius in my opinion. What other cars get over 200-300k miles consistantly?

Brad Herbert
New Albany IN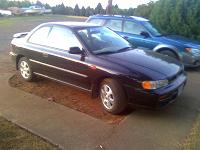 Hey Richard

My name is Daniel Miller and am 25 years old. I live in Silverton Oregon. I own a 1999 Subaru Impreza L Coupe. It currently has just over 250,000 Miles on it. I bought it used with 165,000 miles on it. I did have some work done. Less than 500 miles after I bought the car fifth gear busted and I had it fixed along with the brass and bearings in the transmission, but its still the same 5 speed transmission. At 220,000 I had some problems with lurching and my mechanic had to make a new gasket on the Idle sensing unit. Along with that he changed the water pump, belts, and a CV boot cover. I have always had a small oil leak at the back of the engine, but I only lose 1/2 Quart of oil every oil change. The only problem is the periodic CHECK ENGINE light coming on and off. That has been happening since I bought it and my mechanic couldn't find anything wrong, he did say it was probably something with the catalytic converter, but with the light coming on and off it didn't need to changed. I run valvoline high mileage partial synthetic 5W30 oil and change it every 3000 miles. I changed the spark plugs and wires once just for fun and clean the K&N filter every 20,000 or so. The color of the car is obsidian pearl black and still has a beautiful luster with minor scratches I could buff out. I started driving with a 1988 GL wagon, which was a rebuilt total my dad rebuilt for my mom in the early 90's and she drove it for years before becoming mine and it had over 422,000 on the car(the engine actually had about 100,000 less) I quit driving the 1988 after my grandmother passed away and left me her 1991 Loyale wagon with over 300,000 on it. The 1988 and the 1991 were both reconstructed totals, due to having all 3 uncles on my fathers side in the car salvage business and since Subarus were the safest cars in crashes it was natural that the smarter members of my family drove and drive Subarus still. The 1988 My dad actually turned into a jump after I started driving the 1991. I actually have a pretty cool video and pictures he had taken at the Heritage Mall in Corvallis Oregon, which was a NASCAR event that he got hooked up with because he stuck HOOSIER stickers on the tires and Hoosier put his pictures on their website, it still might be there. It was kind of cool the only wagon not mechanically custom at all car in the mall with cars built for NASCAR driving. The end to life of that car was a race which my dad participated in with junk foreign cars and he was a lap ahead of everyone and some jerked crashed him out and destroyed his beautiful jump car. The 1991 passed from my father to sister and back after she bought a 2006 legacy turbo. She works at Capitol auto group in Salem Oregon and before going into the office she sold (you guessed it) Subarus. She totaled the Legacy due to tires with no tread and living in the mountains by Silver Creek Falls and driving way to fast on ice, but she wasn't even sore the next day and the car was mashed. She then went on to drive a 2007 impreza and traded it up for her 2008 Outback she drives currently. As you can tell I have a family of Subaru fans. The 1991 we gave to my dads friend and I think he parted it out. Sad, it still drove but he got a closer job and it leaked oil like crazy. Their was no more need in our family for that wonderful car.

Attached are pictures of 1999's odometer and a picture of the car itself. My sister's Outback is parked in the background.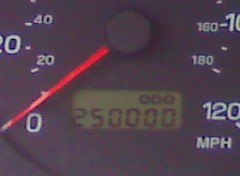 I Just got my dad to help me find the Hoosier picture and here is the link. You'll need to cut and paste but its cool and the name of the car is"THE FLYING DEATH MACHINE" If you'd like to see the video I'll have my dad give me the disc copy and send it from my work which has DSL, we have only got dial up out here and it'll take forever to send it in an email from the house

https://www.hoosiertire.com/PHOTOS/millersu.JPG

Thank you for your time and I would love to hear back

-Dan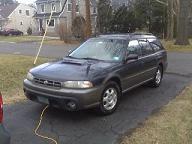 so i would like my baby to be posted in the 200000 section. here is my info:

my "blue/grey steed" is a 1997 legacy outback wagon with 250,000 miles on it and fresh triple tred tires. right after it hit 250,000 i needed to sink 1 grand worth of timing belt and tensioner pulley but she will go another 50,000 i bet. every winter night the engine block heater gets plugged in and i run amsoil synthetic 5-30 oil. if i took as good of care of myself as i do my car, i would be ready for space flight!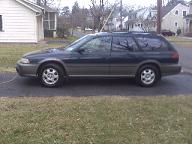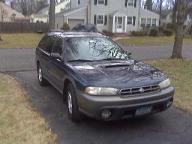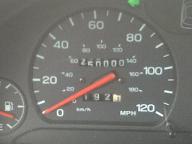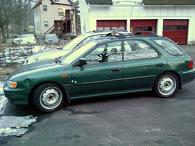 Hello Rich, Just wanted to tell you a little about my vehicle. Its a 1996 Subaru Impreza L wagon 5-speed. The vehicle right now just turned 270,000 miles. The car starts everyday takes me back and forth to work 50 miles. I bought the car from a nieghbor of a Subaru mechanic. He hardly touched the vehicle. I bought it for 300.00 about 4 years ago. The car was a mess. Engine/transmission/driveline are all stock fatory units. When I bought it (227,000 miles) it needed alot of work. Rear bearings, clutch, all fluid change, 4 tires, every seal in the engine, axels, timing belt, drive belts etc. Lucky Im a Subaru Mechanic myself so labor was free. I will never ever sell this car. I am starting to have transmission problems now. Snout on the trans is starting to wear beyond the point of using a sleeve, sincro issues, main bearings,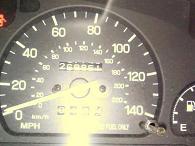 and center diff problems. When you start the car, you dont even here a tick. Never used synthetic. The only synthetic oil I use is in the transmission (mopar semi synthetic). That Oil works great. Quiets things down and helps shifting. I still get around 23-25 MPG depending on driving conditions. The only modifications that I have are lowering springs (which are coming off soon), STi exhaust, and a 400 Watt sterio. Thats about it... Have a nice day Nick Sciarrillo Montclair NJ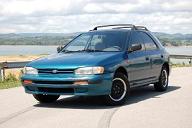 Hello my name is Jordan from Morristown TN. I've been driving a 1993 Subaru Impreza wagon, 2wd 5spd for about a year now. It has 234,000 miles on it and runs VERY well. Upon buying it at 220,000, I replaced the water pump and thermostat with genuine Subaru parts, the timing belt and tensioner/idler pulleys with gates hardware. Also replaced the upper and lower radiator hoses and coolant bypass hose with Gates.

More than anything these were only done to assure it will never overheat, #1 killer of headgaskets. The engine and transmission are original from what I've been told. I also replaced both front shocks with low mileage junkyard replacements ($11 a piece).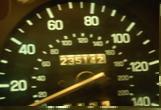 New tires 2,000 miles ago along with alignment (front left was WAY out of line, underbody on that side looks like it's hit something pretty hard). When I bought it, I rummaged through what was left inside and found registration from Minnesota, Kansas, and Texas. It has some rust, but nothing threatening to the frame's integrity. I plan on driving this car until they release the diesel Subarus in the U.S. (if that happens) and then it will be my backup car. It's been on camping trips in Nantahala, Chattahoochee, and Cherokee national forests.

It looks like it's had a rough life, hitch reciever to the front passenger side bumper, slight dent on the driver side rear quarter, dent on passenger side front fender, scratches, dings, carpet in rear cargo area pretty ragged. I've done alot of cleaning and replaced all fluids except for brake fluid. Great daily driver and gets a consistent 30-35 mpg.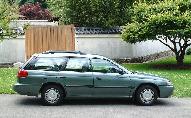 Richard, Here is my newest addition: A 2003 Subaru WRX 2.0 Liter Turbo with a long list of custom items. And, 102,000+ miles as you can see on the odometer. I did not hesitate to purchase this car even with the mileage.

My 95 Subaru Legacy wagon picture somewhere on your site now has 213,000 TROUBLE-FREE miles. Other than oil change every 3,500 miles it just runs.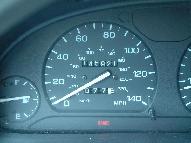 My 2002 Legacy GT Wagon 2.5L now has only 60,000. I drive the 95 Legacy wagon MORE than the newer GT Wagon. The 02 GT sits in the garage, under a car cover. I take it out to go on family outings, or one of my many photo trips (I'm a photographer).

Jorge Moro
(Webmaster's note: Jorge's Legacy has been moved here to the 200,000 miles section. Folks are loyal to their Subarus, and for good reason.)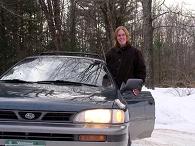 Good afternoon, This is my entry to the Subaru High Mileage Club. On Friday 01/25/2008 my 1996 Outback Sport crossed the 200,000 mile mark! I am very careful with maintenance -- oil changes, tune-ups, and the like. I have replaced the rear wheel bearings twice, fixed some oil leaks on the engine, and replaced both front axles (first bearings replaced along with fixing the leaks and the front axles at about 150,000 miles). I use regular gas, and "high mileage" oil for the changes (but chuckle when I see that they consider 75K miles "high mileage!") The engine and transmission (automatic) are original with no issues or problems. I have owned this car since 2005, and when I bought it someone had taken very poor care of it (hence all the work!)

It's a very sturdy little car, which is very important to me because I live in rural Vermont, up a steep hill on a dead-end dirt road, and we are always the last to get plowed out, and sometimes were don't get plowed! We've had to push some people past our house before, but I've never had any trouble getting home, even in 18" of fresh, unplowed powder.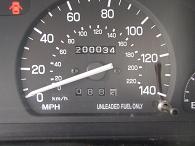 Here's hoping for 300,000 miles!

Please find the pictures attached. Thank you!

Cordially,
Kait (and Gilbert)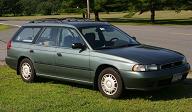 Hi Richard,

I'm the original owner of a 1996 Subaru Legacy wagon, having purchased the car new from Metric Subaru in Huntington, NY, in June 1996. Even with more than 254,000 miles on it, the car has been nearly trouble free ever since I drove it off the lot. The only major repair has been replacing the catalytic converters (pricey!) and some typical items, such as the starter and alternator. But the 2.2-liter engine, 5-speed manual transmission, and even the clutch are all original. The engine burns no oil whatsoever between oil changes and still has adequate power for its size. One secret to my success with this car has been regular oil changes every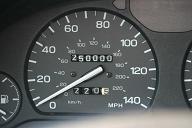 2,500 miles since new.

Since, my Subaru and I have already driven to the Moon (238,800 miles), and are now on the way home, whenever anyone asks its mileage, I can now tell them in LU: Lunar Units. Right now, we're at 1.06 LU.

Phil Harrington
Miller Place, NY
http://www.philharrington.net

Subj: Subaru High Mileage Club
Date: 3/5/2003 8:28:04 AM Eastern Standard Time
From: pgreen@arrl.org
To: shmc001@comcast.net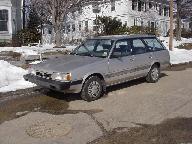 Richard,

Perry Green; Winsted, Connecticut 1991 Loyale Station wagon, 2WD 226,000 miles.

Purchased 2 years ago as a temporary car, never had a foreign car since purchasing cars in the late 60's. This car had 170,000 miles on it - had been in an accident; was traded in for another Subaru at the dealers. Former owner claimed regular Subaru only maintenance. (We found Ford's spark plugs instaled!) When car was sold to me, they put in a new timing belt, and oil pump.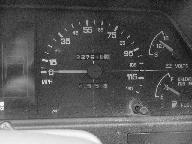 It's had just normal maintenance, no oil changes, and doesn't burn oil. It's been through 5 headlamps, without injury!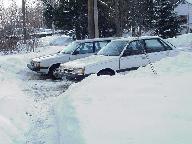 Wife saw that I was so pleased with my import, she switched over to being a life-time Ford owner to a 1993 Loyal sedan, 93,000 miles.

Thanks, Perry

Subj: Subaru High Mileage Club
Date: 2/25/2003 5:32:49 PM Eastern Standard Time
From: Diane Campbell
To: shmc001@comcast.net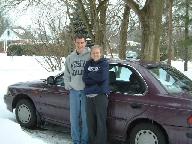 Hello, there are 2 high mileage Subaru's in my family. My son is driving a 1993 impreza that turned over 200,000 miles about a month ago. I change the oil every 3000 miles and use the high mileage oil. Nothing major needed done, just the "brain" or ecm I think it is called had to be replaced. It still runs great, he is going for 300,000! I am driving a 1997 Impreza Sport outback with 117,000 miles. I recently purchased it since my 1992 Legacy was totaled in a wreck (no injuries)They are both great in snow and fun to drive. I wouldn't ever want anything else

Diane Campbell
Pennsylvania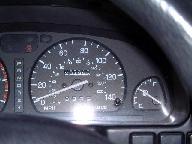 Subj: Subaru High Mileage Club
Date: 2/28/2003 5:51:09 PM Eastern Standard Time
From: Diane Campbell
To: shmc001@comcast.net

Hello, I wrote a few days ago and borrowed a digital camera for some photos,

The purple impreza is my son and his wife, and it has over 200,000 miles. The green impreza sport is mine and has 118,000. Thanks for allowing me to share our love of our subarus!

I originally owned the 93 Impreza then gave it to my son and I bought another one. That was a 92 Legacy that did not survive a crash 2 weeks ago!!

Diane Campbell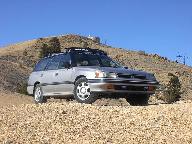 Subj: Subaru High Mileage Club
Date: 1/23/2002 7:55:33 PM Eastern Standard Time
From: Jeremy and Amanda
To: shmc001@comcast.net

Hi Richard,

I live in Reno Nevada and my name is Jeremy Heck. I bought my 1991 Subaru Legacy L AWD 3 years ago used. At the time it had 80,000 miles miles on the ticker, within 3 years I clocked the mileage up to 178,000 miles. Major repairs would be; the clutch was changed at 120,000 miles, I replaced the rear wheel bearings at 140,000 and the two front axles I replaced last year at 160,000 miles. I have never had any problems with that good ol 2.2 liter motor. It starts up every morning with out any trouble. I've put $0 into the motor as of today. Just regular oil changes every 3000-5000 miles. Legacys are such great cars I made my own web site at www.offroadsubaru.com . Check it out and see what Subies can really do!

Amanda Heinemann also from Reno Nevada and owns a 2000 Subaru Impreza 2.5 RS. It just hit 28,000 miles this week. No major work has been done to it. Just a few power mods. You can also see more of her car at www.offroadsubaru.com .

Thanks
Jeremy and Amanda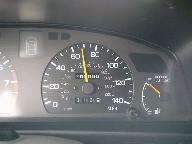 Subj: Subaru High Mileage Club
Date: 2/21/2003 2:57:30 PM Eastern Standard Time
From: jeremyh@renonevada.net
To: shmc001@comcast.net

Hi Richard,

I am a current member in the 100,000 mile section of your club. Recently my 91 Legacy just turned 200,000 miles. Is it possible you could update that for me. It's under Jeremy and Amanda.

Thanks
Jeremy Heck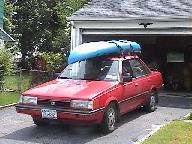 Subj: Subaru High Mileage Club
Date: 11/29/2002 4:06:06 PM Eastern Standard Time
From: JAMES CAMARDA
To: shmc001@comcast.net

HI MY NAME JAMES CAMARDA.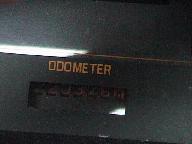 I OWN THIS 1985 SUBARU GL10, IT HAS 218,OOO ON IT STILL RUNING STRONG. I CHANGE FRONT AXILES ON IT PUT NEW CLUTCH ON .BUT SAME BLOCK.I LIVE IN NEW YORK.ALL STREET DRIVING.
THANK YOU
JAMES CAMARDA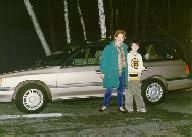 This is my wife and son with our 1990 Subaru Legacy AWD Wagon (non-turbo). We just passed the 200,000 mile mark. We now own 2 Subarus in the over 200,000 mile range. Visit the main page and click on the image for a video clip of the event. You will also hear a fellow ham radio operator talking over the video clip, as we were listening to him while recording the milestone. You will need a media player capable of playing MPEGs in order to view the clip.
Subj: My Subarus
Date: 7/25/2002 1:54:25 PM Eastern Daylight Time
From: Alexander.M.Kasner@state.or.us
To: shmc001@comcast.net

Hi there,

I live in Salem, Oregon and my love affair with Subies started when my step dad gave me his '90 FWD 5 speed Legacy Wagon, after buying a '98 Legacy AWD 5 speed Wagon. He raved about his Suby for years and after getting it I understand why. My Legacy has 291,000+ miles on it and has had no major work done to the rock solid EJ22 motor, the tranny has never skipped a shift, and the clutch is original (even with my heavy foot). I have upgraded to SS brake lines and just changed out the pads. They were original pads with 290,000 + on them and would have lasted a while longer. I have made modifications to intake and exhaust and some suspension, but none of it NEEDED to be done. I did it out of love (my car is the closest thing to a woman in my life right now!)


I also just bought a '79 DL 1600 4WD, 4 speed Wagon. ($100.00 and it comes with a spare 1600cc motor!) This car has well over 250,000 miles on the original motor (has had valve cover gaskets replaced), but tranny, clutch, brakes and suspension are relatively original. This one is going to be my stumpjumper off road beast. The guy I bought it from says he just had to replace the sunroof seal as it started to leak. It took it 22 years to start leaking, and most sunroofs leak before they make it off the showroom floor. Rocksolid!

Great site!

Alex
Subaru High Mileage Club
Date: 2/10/2002 11:16:07 AM Eastern Standard Time
From: immortal_suby@hotmail.com
To: shmc001@comcast.net


My name is Matt Davis, I am from Greenville, South Carolina. We have 3 subaru's in my family between my wife and I. We have two black 1992 SVX LS-L and one 1989 DL 4x4 wagon. My SVX (the one with the spoiler) has over 155,000 miles on it now and her's has just over 116,000. The DL 4x4 wagon currently has over 270,000 miles on it. Attached is a picture I took while driving as it rolled over 250,000 miles. Routine maintenance for all three is mainly the ritual oil change at 3k miles. The SVX's run only Havoline synthetic motor oil. Unscheduled Maintenance on all three has mainly been replacing seals to stop oil leaks and a recurrent wheel bearing problem on one SVX. Other than that the cars have been very reliable despite being driven hard. The wagon routinely goes off road and has survived more than one "flight". I have submerged the wagon over the hood in water while crossing a creek and although it did stall out, it started and ran fine
after being pushed out. The SVX's routinely make an over 850 mile trip from South Carolina to New York to visit family. I wouldn't attempt this in any other car. They handle very well and are very comfortable at speed and manage to get 26-27 mpg on the highway out of the 230 hp flat 6 (the engine rev's at only 3000 rpms at 90mph!)

My wife has owned a 1986 GL 4x4 hatchback, and a 1988 DL 4x4 wagon. My father owns a 1996 legacy brighton My older brother currently owns a 1992 legacy and has owned a 1987 GL 4x4 sedan and another 1992 legacy that he sold to my younger brother My younger brother owns a 1992 legacy

Great website - I enjoyed reading the stories section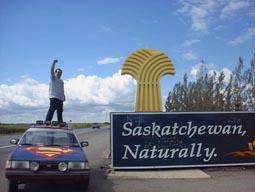 Subj: Subaru High Mileage Club
Date: 8/5/2001 10:47:02 PM Eastern Daylight Time
From: Stephen Chatto
To: nv1z@aol.com

hey there guys.

I have fallen in love with the car known as Subaru. It started with my buddy John. He had a 1989 Subaru GL wagon with 4wd. We used to take it out in the woods for some off roading, and I was in love. I had recently purchased a 1984 Chevy Cavilier, and tried that in the woods. Needless to say John was always pulling me out. I loved off-roading. Needed a new car. And bought myself a jeep. I figured that is a subaru can do this, a jeep can do it better. Well I love my jeep, and it can go a lot of places a subaru can not. BUT it gets 9 miles per gallon (big tires eat gas) and isn't useful as a daily driver, PLUS, I would be scared of a roll over to race or rally it.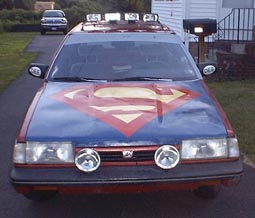 Well, John's Subaru starts leaking tranny fuild. A LOT OF TRANNY FLUID. He dicideds to put it in the back yard, and purchases a 1989 Wagon 4wd, WITH TURBO. A few monthes later, he got around to fixing the leak at 181,000 miles (replaced a 3 dollar seal in the tranny), but didn't want to give up the turbo. Then we decided to drive across country in his car. CT to CA and back. 10,000 miles round trip. This sold me. I knew his other subaru was sitting there, and really wanted it. He wanted to keep it for parts, and I finally got it off of him for $700.00 I knew that everything had been well maintained and/or repaired secondary to john's meticulious nature. The car went through inspection, and I was a happy man. (only thing it needed to pass were new wiper blades). It was right before the winter of 2000, and I noticed the heat didn't seem to work. All that time sitting, and some critters made a nest in the heating ducts. John and I cleaned the ducts out, and it heats up real nice now.
Then John got me intressted in Rally, and we took our cars to upstate new york from CT, and actually did pretty well. It was a four hour race. I was driving at full throttle almost the whole way. This caused the exhaust to come lose from the engine block. It got louder as the race went on, and it was a REALLY loud drive home. We made it home. I had to retap the stripped bolt holes in the engine, but managed to get it fixed @ 185,000 miles. I also put snow tires on it right before the race (the race was on snow covered roads).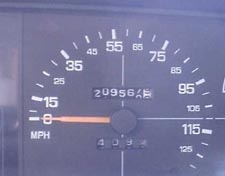 Next bug was Ice Racing. We did this up in NH actually. On a frozen Lake. This was for top lap time, not consistance like the rally. So our utter lack of power hurt us, and we finished at the bottom of the pack in the 4wd class. But alot of those guys had newer cars with anti lock brakes, and traction control stuffs. When we would hit the brakes, all 4 tires would lock up.
I started adding characted to my subaru (as you can see from the pics), and change the oil ever 5-6000 miles. I have to add a lot, so I figure I don't have to change it as much. It overheated due to a cracked radiator hose, and I had to replace that recently. I also did some preventitive maintenace recently (thermostat, re tightened exhaust, belt, tightened front axle, and added a cd player). After that, we drove it to saskatoon, SK a 5,400 mile round trip. The only problem it gave us was the tail pipe fell out of the exhaust, and the muffler needed replacing ($60 in parts, and 1 hour of labor under a shady tree)
Anyway. I have attached some pics. The car has almost 210,000 miles. and I love it. It amazes me every day that she gets me around with all the abuse i give her.
Steve

P.S. I also have a short movie if you would like. I didn't attach it in case you have a slow internet connection, but would be glad to send it to you. It is really nice, about 1 minute long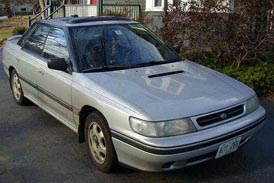 This is a 1993 Subaru Legacy AWD Turbo with over 246,000 miles on it (as of 10/25/02). I change the oil every 5,000 miles with Mobil 1 synthetic oil and I do not need to add ANY oil between changes, and I run only unleaded premium, just like the owner's manual recommends. Not only have I not had to do any major work to it, I have not even tuned it up! The only work I have done to this puppy is brakes and tires. As of 3/7/00 I just had the alternator replaced.


Subj: pics
Date: 1/16/2001 3:21:41 PM Central Standard Time
From: ABERTOM15
To: Nv1z
CC: ABERTOM15

Hey,
These are the PICS of my new car, a 1988 XT-GL Manuel trans. It has 200,010 miles on it (I waited until it had over 200 to send it so it could go in that section). The man I purchased it from says it has never had any serious problems, just small things like timing belts.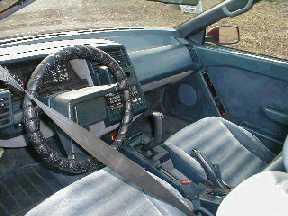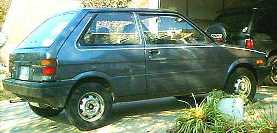 Subj: Subie
Date: 11/1/00 9:48:03 AM Eastern Standard Time
From: beanhead@mindspring.com (Steve Lindsay)
To: nv1z@aol.com

Attached is a picture of my '88 Justy. I bought it from a friend to resell, but decided to keep it for my " errand" car. It has 212,000 miles on it and I recently replaced front brakes, rotors, timing belt, & the " original clutch." It gives me good reliable service, with good gas mileage, and I will probably keep it til it dies. Subarus are tough!

Steve Lindsay
S. Carolina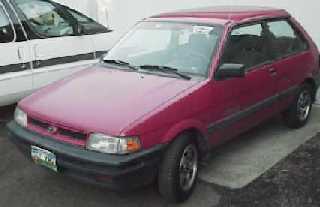 Subj: RE: For easy reference
Date: 10/24/00 7:03:20 PM Eastern Daylight Time
From: Steve.Broady@omsi.edu (Steve Broady)
To: Nv1z@aol.com ('Nv1z@aol.com')

Hi Rich, Sent you some pics but I dont think my mail service was working so here are some more.... My Justy's story is, I bought it 5 years ago for 1400.00. It has a loose piece of sheet metal on the exaust that rattles at 3000 rpm. the lady thought a rod was going out. At that time it had 89,000 miles. I have since then put 140,000 miles on it and it still rattles. I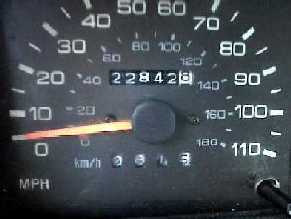 have always used Valvoline oil and been fairly regular on oil changes. Just went to Max Life oil by valvoline, Only put one set of brake pads on the front disks. It is so light weight that I put all 140,000 miles on the Kelly tires that were on it when I got it. Being 4wd it goes great in the snow, been in so deep that it was rolling up snow in front of the bumper and ice is no problem. I think by best hint for long life is I try to treat it like my friend, no burn out's etc.

Live Long & Prosper, Steve Broady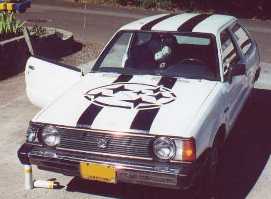 Subj: HMC
Date: 7/3/00 4:47:25 AM Eastern Daylight Time
From: falcon_@geocities.com (Andrew Bowers)
To: nv1z@aol.com

My name is Andrew Bowers, I live in Albany, Oregon. I have a 1987 3-door hatchback withg 239,538 miles on it. I bought it about a week ago for $400, and at that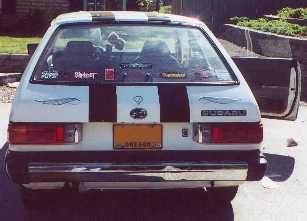 time it had 239,141 miles on it. The only work they had done was to have the exaust system worked on, and I think they just replaced the muffler. The only work I have done to it so far is to change the oil, replace the oil filter, replace the spark plugs, plug wires, and distributor cap and rotor, and replace the pedal bracket as the old one was bent and caused the clutch to not work. I change the oil every >>>3,000<<< miles (Don't know where you get 5,000 from, 3,000 miles is when you are supposed to do it, even if the mfr. says 6,000.. It's better for your engine, and oil is cheaper than an engine!), and am running 20W-50 in it right now (Due to the high mileage). Am planning to dump some Prolong in there as soon as I get some more $$$.
(Webmaster's note: as of 1/2/01 Andrew reports 251,100 miles on his Subaru)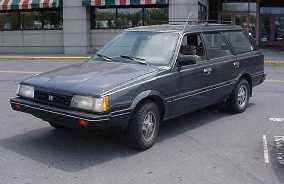 Cece Ferraro of Scotia, New York owns this 1986 GL 4WD Wagon that has passed the 247,000 mile mark with a standard shift and no major powertrain trouble. (Cece, it was nice to meet you at the Colonie Mall. I forgot to ask you as well what kind of scheduled maintenance you have done on your Subaru. Have you ever replaced the clutch? If so, at how many miles? Perhaps you can sign the guestbook and answer there.)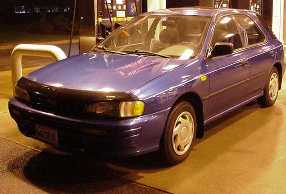 Gay Carbone of Kennebunk, Maine owns this Impreza wagon with over 218,000 miles on it. (Gay, I apologize. I must have been "asleep" when we talked at the Haffner's station in Hudson. I forgot to even ask you the model year or what kind of maintenance you do on it. I also noticed it was a stick shift. Have you ever replaced the clutch? Please you can sign the guestbook and give the information there.)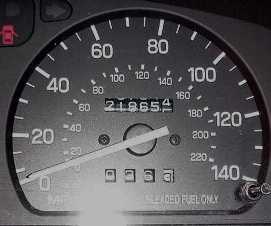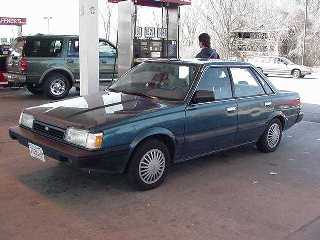 This is Heather and Jay Adamik of Townsend, MA's 1993 Loyale sedan with over 235,000 miles on it. Heather Adamik says she believes "Subaru owners are going to take over the world!"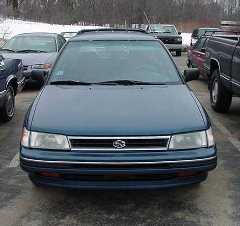 Ed Adamczyk also owns this 1990 Subaru Legacy AWD (non-turbo) with over 208,000 miles on it. All he did was regular maintenance, up to a point! One thing Ed told me, he does not change the oil in this car anymore, and has not for the last several thousand miles. He figures at this point it does not owe him anything. Think how long it would last if he kept up with the maintenance!